Bicycle Race Team Mechanic
Walton Street Cycles mechanic supporting professional cycle race team.
Hi I'm Steve, during the week I do the Bike Dr events for Walton Street Cycles and repair bikes within the busy workshop, at weekends I am the mechanic for a professional Junior racing team called Zappi JRT.
We have been to Belgium and Holland already this year but last week we went up to the Lake district to help and compete in the Fred Whitton Challenge, which is 112 miles with 3,500ft of climbing.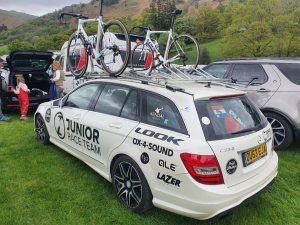 We drove the 4 hours up on Saturday so the riders, George Gray and Jude Chamberlain, could register and we showed off the team car with a variety of people taking photos of it. We woke up very early on Sunday and got the two riders off for their challenge, Myself and the DS (the Directeur Sportive, the person who runs the team at races) drove out to a couple of places on the course to hand up bottles and to show our support.
Once the guys had finished we caught up with the organiser and spent sometime with the other competitors, it was a fantastic weekend and the next adventure will be the Junior National Championships in Yorkshire at the end of the month.
So when you get your bike fixed within the workshop or through the Bike Dr service it is being fixed by a race team mechanic just like the pros.
Other Services
As well as sales and repairs, we offer a range of other services for cyclists around Oxford.
New Bike Delivery

We deliver new bikes across Oxfordshire.

Repair Collection

We collect and deliver bikes for repair.

Bike Lock Cutting

Broken lock removal in Oxford city centre.