New Bike Sales and Delivery in Oxford
We offer a personal delivery service, in person, using our own vehicles, to the wider Oxfordshire region. It is an extension of our in-store services.
What we offer:
Your bike will arrive in perfect condition, fully assembled and ready to ride – built by our mechanics, in our workshop.
It will be delivered by our trained staff, in our vehicles, at a mutually agreed time.
Any accessories that you order will be pre-fitted.
The person dropping of your bike is one of our team and a trained professional, they will be on hand to make final set ups, adjustments and answer any questions.
We provide your receipt and details of your new bike and assistance with registering the bike.
As your new bike has been built be a qualified mechanic and set up to suit your specific needs the manufacturers warranty will be valid.
Your bike includes the first free service which is due in 6 – 8 weeks.
What we don't offer:
A half-assembled, bike in a battered box.
Damage in transit.
A bike that's not ready to ride.
Orders delivered by a third party courier firm, in split deliveries.
Random delivery times to suit the courier's convenience.
Void guarantees.
How do I order?
You can order in-store, by phone, or by email. Please note that we will only deliver to the registered credit card cardholder's address.
What is the cost of delivery?
Delivery charges will depend on your postcode. Cost is calculated at 60p per mile inside the ring road and 80p outside of the ring road (minimum charge of £5 applies). For further details, ask in-store, call us or email us with your postcode for a quote.
Where do you deliver to?
We deliver anywhere in Oxfordshire, but if you live outside of the county but still within a couple of hours of our shop we will try and extend the service – give us a call we will help if we can.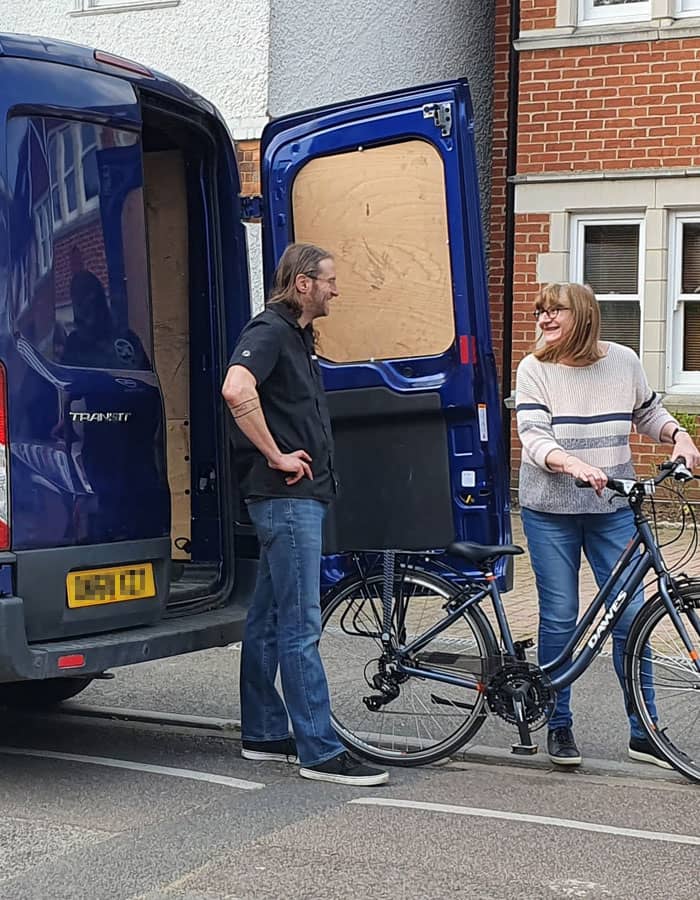 Other Services
As well as sales and repairs, we offer a range of other services for cyclists around Oxford.
New Bike Delivery

We deliver new bikes across Oxfordshire.

Repair Collection

We collect and deliver bikes for repair.

Bike Lock Cutting

Broken lock removal in Oxford city centre.